The series consists of three games:  Deer Hunter Trivia, Turkey Hunter Trivia and Fishing Trivia.  These games are just what you need to get your family together and sharing the hobby that you love.
Today everyone—mom and dad, child and grandparent alike—is plugged into phones, tablets, computers, and television, making increasingly difficult to connect with one another.  They may be sitting in the same room, talking now and then, but really they're all off in their own little electronic worlds, unaware of each other.  If you're going to keep human connections, it's important that we periodically unplug from electronics and engage in some one-on-one or family time.  
What better way to bond with your family than a family game night?  Games are not only a great way to teach children important social skills, but games also help to build self-esteem and spark conversation.  No electronics are needed with our games, so unplug and rediscover the simple pleasure of conversation, and enjoy some educational fun. With each game, you'll learn about whitetail deer and deer hunting, wild turkey and turkey hunting, and fish and fishing.  Test your knowledge and score points to see who's the most knowledgeable whitetail deer hunter, wild turkey hunter or angler!    
Surprisingly, even with everyone playing video games these days, board games are more popular than ever and have seen huge growth over the last decade.  And it's not just kids that are playing board games with each other and their parents.  Millennials are a huge driving force behind the resurgence of board games, using them at parties and get-togethers as a way to have fun and connect with people with similar likes and interests.  This popularity has paved the way for Mom and Pop companies like that of Jeff and Teresa to bring these fun games to you.  Card games are among the most popular games today but usually have complex guidelines to understand and follow and take forever to learn.  While most hunting board games involve complicated rules that have you "hunt" for "game" and have many pieces that can easily become lost, the Deadeye Trivia Games are streamlined and simple.  Why play a game that you have to spend an hour learning the complicated rules when you can get started on the fun right away?  Each game in the Deadeye Trivia Games  series comes with over 350 questions of varying difficulty and a few rules.
---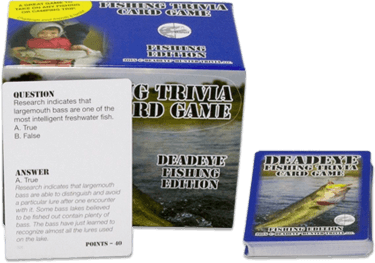 Deadeye Fishing Trivia Card Game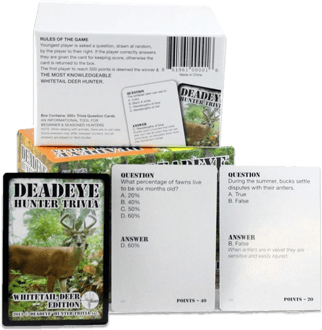 Deadeye Whitetail Deer Hunter Trivia Card Game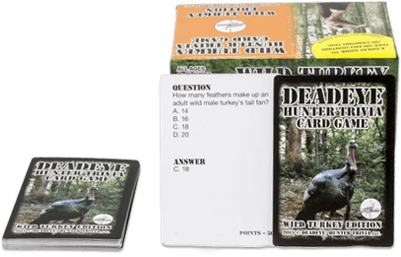 Deadeye Wild Turkey Hunter Trivia Card Game