The youngest player goes first.  The player to his or her right draws a card randomly, and reads the question aloud.  The youngest player answers the question, and if answered correctly, he or she holds onto the card for keeping score.  Each card is marked with a score of 10, 20, 30, 40 or 50 points, depending on difficulty of the question.  If the player answers incorrectly, the card is returned to the back of the box and play continues clockwise.  The first player to reach 500 points, wins the game and is deemed the most knowledgeable hunter or angler!
Because these games have no other pieces other than trivia cards, the number of players can be 2 or 200 so no one will be left out.  You can play as individuals or play as teams.  The compact design of the games means they are perfect to take along on hunting, fishing or camping trips and can be played virtually anywhere.  Keep a set at your hunting cabin to test your knowledge after an adventurous day hunting.  Keep one in your car for those long car trips for when the kids start asking, "Are we there yet?"   Break it out at your next family gathering or party with friends.  Or keep one in your family game night rotation.
Because the trivia questions vary in difficulty, these games are appropriate for all ages, and brings outdoor enthusiasts—young and old—together for an engaging and entertaining time where you're bound to learn something new about your favorite game animal and about your family.  Even the most expert hunter or angler may learn something new!  And the difference in the cards means that the most seasoned hunter may even be beaten by a novice!
---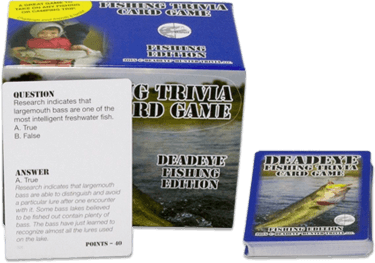 Deadeye Fishing Trivia Card Game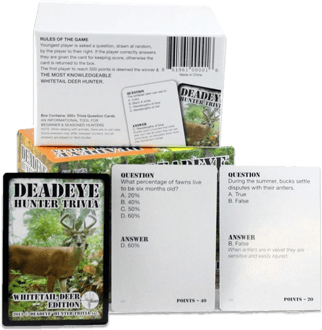 Deadeye Whitetail Deer Hunter Trivia Card Game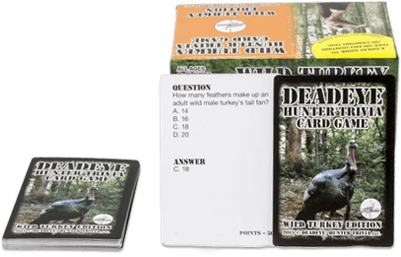 Deadeye Wild Turkey Hunter Trivia Card Game